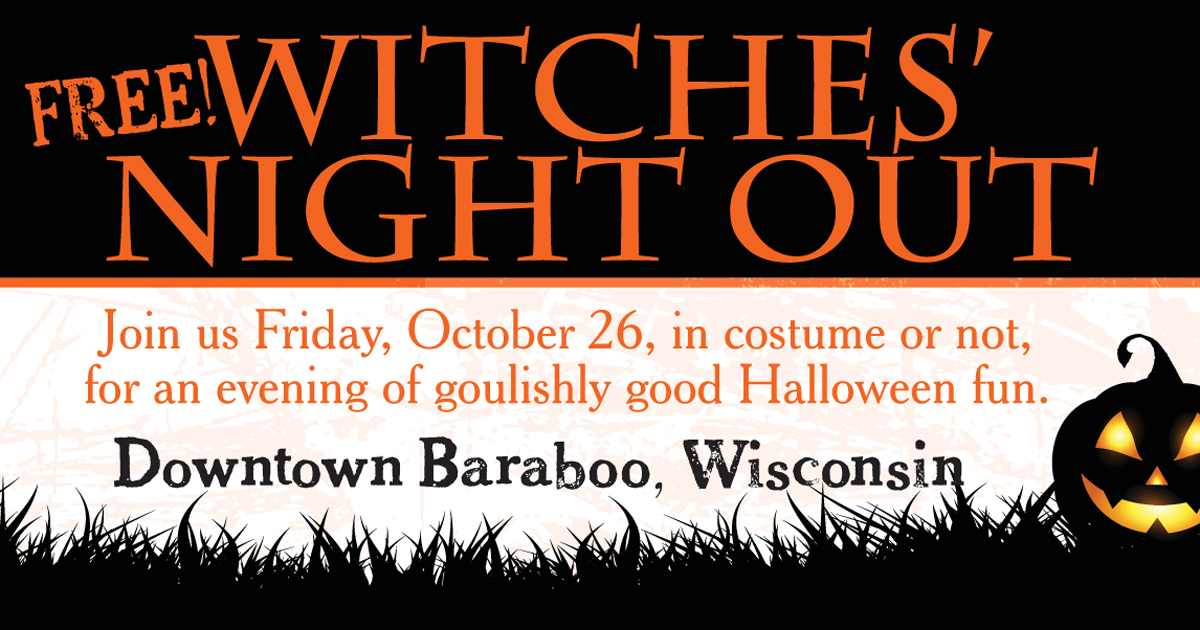 October 26th - Witches' Night Out in Downtown Baraboo 6-8pm
Ladies this night is just for you! Join us in store for special sales, demos and treats and brews just for the Witch in you! Come in costume or not, but plan for a fun evening of Witches' delights!
November 16th - Downtown Baraboo Winter Wine Walk 6-9pm 
Go to www.downtownbaraboo.com for more details!  Tickets on sale October 16th at 9am at Bekah Kate's and 10am online at www.Eventbrite.com
November 23rd - Black Friday Sale 8am-10am
For a few hours only, get our employee discount! If you are in by 10, you can shop longer!
November 24th - Small Business Saturday
Shop with us...the little guys! Support your downtown independent merchants this holiday season (well all seasons really;)...we will be having a special guest bagger! Stay tuned! It will be a fun day with food samples and drawings and more! Stop in and see us!
November 30th - Dec 2nd - Bekah Kate's Holiday Open House Weekend 
This is your last chance for a big storewide sale before the holidays!  Save 20% off storewide! Enjoy cookies and hot beverages and lots of other yummy samples!
January 4-6th, 2019 Winter Clearance Sale
2019 Baraboo Cocoa Crawl
February 2019  Gourmet Food & Wine Tasting Event
Spring Cleaning Sale - April 5th - April 7th, 2019
To help you jump start your spring cleaning, take 20% off all cleaning products such as Mrs. Meyers and Stonewall Kitchen, towels, scrubbers and more!
May 3rd - Downtown Baraboo Spring Wine Walk 6-9pm 
Go to www.downtownbaraboo.com for more details!  Tickets on sale April 3rd at 9am at Bekah Kate's and 10am online atOctober 20th Demo Day Sale 11-3pm


May 11th, Spring Demo Day and 15th Anniversay Sale! 11-3pm
Come join us as we celebrate our 15th Anniversary! 
We want to thank you...our loyal customers, for supporting us for the past 15 years as a cornerstone business in Downtown Baraboo.  Join us for cake, celebrations and more...stay tuned!
Experts representing many of our popular brands will be here Saturday between 11-3 to demonstrate their products and answer your questions. Enjoy loads of food samples, door prizes, raffles and storewide 20% off sales. Storewide sale on Saturday only! Bring a canned food item and receive an extra 5% off per item per can. All Foods donated to the Baraboo Food Pantry. Professional Knife Sharpening Free with a donation to the Baraboo Food Pantry.www.Eventbrite.com
Downtown Baraboo Summer Brew Ha Ha - June 21st, 2019
Join us and our fellow Downtown Businesses in an evening of shopping and beer tasting as you stroll through our beautiful downtown! Tickets on sale at Bekah Kate's on May 21st starting at 9am and on Eventbrite.com at 10am.  See www.downtownbaraboo.com for more details.
Summer Bag Sale - August 9th - 17th, 2019 
Recycle your gently used Bekah Kate's Bags and receive 15% off per item per bag you bring in.  Free gift for the customer who brings in the most recycled bags!