Posted on
By Susan Vrabec- Cooking Class Instructor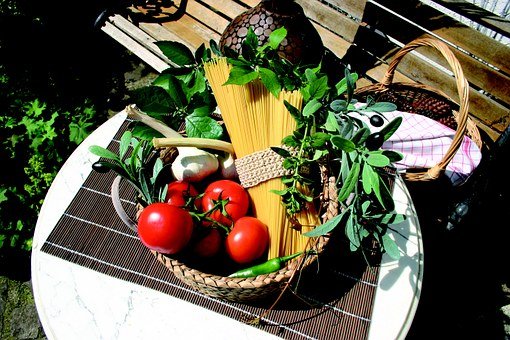 Enhance your favorite recipes with herbs and flowers
Herbalicious
August 4, 2016
COLD CREAM OF ZUCCHINI AND BASIL SOUP
Serves 4-6
2 Tbs. olive oil ½ c. chopped yellow onion 1 tsp. minced garlic 1 ¼ lbs. zucchini, trimmed and chopped ½ tsp. salt ¼ tsp. freshly ground pepper 3 c. chicken or vegetable stock 1 sprig thyme ½ c. packed basil leaves, chopped ½ c. packed peppery greens (mustard greens, water cress, nasturtium leaves), chopped 1 Tbs. minced parsley leaves 1 c. heavy cream ¼ c. crème fraiche or sour cream Chopped chives and small basil leaves for garnish In a saucepan, heat the oil over medium heat. Add the onions and cook, stirring, for 3 minutes. Add the garlic and cook for 15 seconds. Add the zucchini, salt and pepper, and cook until tender. Add the stock and thyme and bring to a boil. Reduce heat and simmer, stirring occasionally, for 10 minutes. Add the basil and greens and let wilt, about 5 minutes. Remove from heat and discard thyme sprig. With a hand-held immersion blender or in batches in a food processor, puree the soup. Stir in the cream. Let cool and refrigerate until well chilled. Before serving adjust the seasonings to taste. Garnish servings with crème fraiche, chives and basil leaves.
HERBED GOAT CHEESE
10 ounces goat cheese, softened 8 ounces cream cheese, room temperature ½ cup finely chopped herbs and edible flowers Combine all in a bowl. Use to top crostini or crackers or stuff small tomatoes Option 1: To ½ cup of Herbed Goat Cheese add 3 to 4 finely chopped sun-dried tomatoes (packed in oil). Mix well. Season with freshly ground black pepper. Option 2: Make small balls of Herbed Goat Cheese and roll in toasted sesame seeds, finely minced herbs or toasted crushed nuts and spear with toothpicks for an appetizer. HERB BUTTER ½ cup room temperature butter ½ Tbs. fresh lemon juice or a few gratings of lemon zest (optional) 3 Tbs. fresh herbs and/or herb flowers or 3 tsp. dried herbs or 3 tsp. herb seeds Salt and white pepper to taste or dry mustard, paprika, cumin (optional) Chop the herbs very finely or pulverize the seeds. Cream the butter by hand and blend in the herbs and seasonings. Shape as desired and chill or freeze up to six months. Suggested combinations: - Sage, parsley and chives for chicken, rice, pasta - Tarragon or fennel, lemon zest, and parsley for fish, chicken, or eggs - Caraway seeds and parsley for cabbage, carrots, potatoes, and bread - Rosemary, chives, parsley, and garlic for potatoes, rice, pasta, beef, chicken - Calendula petals, chives, and parsley for chicken, rice, or eggs - Scented geraniums, rose, or pinks (dianthus) for toast, scones, waffles
BASIL PESTO
2 cups fresh basil leaves (may use 1 cup basil leaves and 1 cup fresh spinach leaves) ½ cup parsley leaves ½ cup olive oil 3 Tbs. pine nuts 2 garlic gloves, peeled ¾ cup freshly grated Parmesan cheese Salt and pepper to taste Puree the basil, parsley, olive oil, nuts, and garlic in a food processor, blender, or mortar & pestle. Mix the cheese in by hand. Season to taste. Note: if you are not going to use the pesto immediately, pour a thin layer of olive oil on top of the pesto and store in the refrigerator. If you prefer to freeze it, add the cheese after thawing. Variations:
ROSEMARY PESTO: Substitute 1cup rosemary for the basil. Increase the parsley to 2 cups. Use with beef, chicken, lamb, or potatoes.
DILL PESTO: Substitute ¾ cup scallions, including green tops, chopped and ¼ cup chopped dill weed for the basil.
FRESH GREEN BEANS WITH HERB PESTO
Serves 4-6
(adapted from Wisconsin Herb Cookbook)
PESTO
¾ c. scallions, including green tops, chopped 3 Tbs. fresh parsley 3-4 Tbs. fresh herbs, chopped (basil, dill, summer savory) 2 Tbs. cider vinegar 1 Tbs. balsamic vinegar 3 oz. walnuts, coarsely chopped ½ - ¾ c. olive oil salt & freshly ground pepper 1 & ½ lb. fresh green beans, trimmed and cleaned dill sprigs In a blender or food processor combine scallions, parsley, dill, vinegars, walnuts, and ½ c. oil. Whirl until the mixture is smooth, add more oil as needed. Season with salt and pepper and set aside. (Can be frozen at this point) Cook green beans in boiling water 3-4 minutes until tender-done. Do not overcook. Drain thoroughly. Pour enough pesto on them just to coat them. Toss gently. Chill for several hours or overnight. To serve: Bring to room temperature, taste and adjust seasonings, add more pesto if needed. Garnish with dill sprigs.
COMPLIMENTARY HERBS FOR COMMON FOODS
Asparagus: basil, chives, dill, tarragon Beans, dried: coriander, cumin, garlic, marjoram, oregano, rosemary, sage, savory, tarragon, thyme Beans,: basil, bay leaf, dill, garlic, marjoram, rosemary, savory, tarragon, thyme Beef: basil, bay leaf, garlic, ginger, marjoram, oregano, and thyme Cabbage family (broccoli, cauliflower, cabbage, Brussels sprouts: basil, caraway seeds, garlic, ginger, marjoram, tarragon Carrots: caraway seeds, chives, ginger, marjoram, and tarragon Chicken/Turkey: basil, bay leaf, chives, coriander, garlic, ginger, marjoram, oregano, rosemary, savory, tarragon, thyme Corn: chives, coriander, rosemary, sage, savory, and thyme Eggs: chives, savory, tarragon Eggplant: basil, garlic, marjoram, oregano, sage, thyme and cinnamon Fish: basil, bay leaf, chives, coriander, dill, nutmeg, sage, tarragon, thyme Lamb: dill, garlic, mint, oregano, rosemary, thyme Mushrooms: basil, chives, dill, garlic, marjoram, rosemary, tarragon Peas: basil, chives, dill, marjoram, mint, oregano, savory, tarragon Pork: caraway seeds, coriander, dill, garlic, ginger, rosemary, sage, thyme Potatoes: caraway seeds, bay leaf, chives, garlic, rosemary, tarragon, thyme Summer Squash (yellow and zucchini): basil, chives, dill, garlic, ginger, marjoram, oregano, rosemary, savory, tarragon Tomatoes: basil, chives, coriander, dill, garlic, marjoram, oregano, rosemary, sage, savory, tarragon, thyme Winter Squash: nutmeg, sage, garliC
TIPS FOR DRYING HERBS
Herbs can be dried in any number of ways: by tying the stalks into bundles and hanging them in a dry, well ventilated place; laying them out on screens to air-dry or using a dehydrator. Good air circulation is important to prevent the growth of mold. For best flavor retention, do not dry herbs in a conventional or microwave oven as essential oils volatilize at 85 to 110 degrees. Using a convection oven fan with no heat is fine. Dry small leaved herbs such as rosemary, thyme, oregano, and marjoram on their stems. Strip the large leaves of basil, mint, sage and lemon balm from their stems to speed drying. To help herbs such as basil retain their bright green color, lay them out in a thin layer between paper towels and stir once a day to aerate them. As soon as small-leaved herbs are crispy-dry, gently rub the leaves off of the stems. Store all dried herbs in whole-leaf form; don't crumble, grind or powder them until you are ready to use them. Store whole leaves in tightly sealed jars in a dark, cool spot or in the refrigerator. To use dried herbs in recipes that call for fresh, substitute one-third to one-half as much dried herbs as fresh.
THE TEN RULES OF EDIBLE FLOWERS
From Edible Flowers from Garden to Palate By Cathy Wilkinson Barash
1. Eat flowers only when you are positive they are edible. 2. Just because a flower is served with food does not mean it is edible (See Rule 1). 3. Eat only flowers that have been grown organically. 4. Do not eat flowers from florists, nurseries, or garden centers (see Rule 1) 5. If you have hay fever, asthma, or allergies, do not eat flowers. 6. Do not eat flowers picked from the side of the road. They are contaminated with car emissions (see Rule 3). 7. Remove pistols and stamens from flowers before eating. Eat only the petals. 8. Not all flowers are edible. Some are poisonous. 9. There are many varieties of any one flower. Flowers taste different when grown in different locations. 10. Introduce flowers into your diet the way you would new foods to a baby – one at a time in small quantities. Herb and Flower Reference Books: Edible Flowers from Garden to Palate, Cathy Wilkinson Barash, Fulcrum Publishing ISBN 1-55591-246-1 Herbs and Edible Flowers, Lois Hole, Hole's publishing ISBN 0-9682791-3-9 Wisconsin Herb Cookbook, Breckenridge & Snyder, Prairie Oak Press ISBN 1-879483-32-7 Madison Herb Society Cookbook, Madison Herb Society The Herbal Pantry, Tolley & Mead, Clarkson Potter Publishers ISBN 0-517-58331-3
Thank you for attending my class. I hope you will learn to enjoy herbs as much as I do!
Susan Vrabec