Posted on
By Bekah Stelling and Maggie Hanson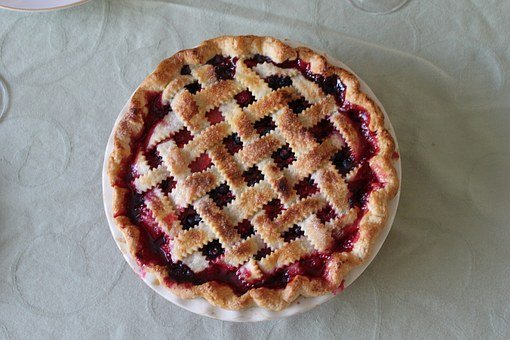 Recipes from our fantastic 2018 Pie Class at Bekah Kate's in Downtown Baraboo taught by Maggie Hanson
All-Butter Pie Crust – adapted from Joy the Baker
2 1/2 cup all-purpose flour
2 T granulated sugar
3/4 t salt
1 cup (2 sticks) unsalted butter, cold, cut into cubes
1/2 cup cold buttermilk plus 2 to 3 tablespoons more if your dough is dry
In a medium bowl, whisk together flour, sugar, and salt. Add cold, cubed butter and, using a pastry blender, work the butter into the flour mixture. Quickly break the butter down into the flour mixture, some butter pieces will be the size of oat flakes, some will be the size of peas. Create a well in the butter and flour mixture and pour in the cold buttermilk. Use a fork to bring to dough together. Try to moisten all of the flour bits. On a lightly floured work surface, dump out the dough mixture. It will be moist and shaggy. That's perfect. Divide the dough in two and gently knead into two disks. Wrap each disk in plastic wrap and refrigerate for at least 1 hour.
Good For Everything Pie Dough
3 cups all-purpose flour
¼ cup sugar
1 ½ tsp salt
2 ½ sticks unsalted butter, cut into tablespoon sized pieces
1/3 cup very cold/frozen shortening, cut into pieces
½ cup ice water
Put the flour, sugar, and salt in a food processor and pulse a few times to mix. Drop in the butter and shortening and pulse only until they are cut into the flour leaving some pieces the size of fat peas and some smaller like barley or couscous. Add about 6 tablespoons of water and pulse a few times, if the dough still looks very dry add more until you see the consistency you want – do not exceed ½ cup in total. Dump the dough onto a work surface and divide into two even piles. Work the dough only slightly with your hands until it comes together, then shape into a disc and wrap in plastic wrap. Refrigerate the discs for at least an hour before rolling out.
Classic Key Lime Pie – not at all adapted from Smitten Kitchen (I copied & pasted)
Every key lime pie recipe agrees that a can of sweetened condensed milk is the king of ingredients. From there, they diverge. Some use more lime juice, some less. (I use 2/3 cup for a nicely tart filling; use only 1/2 cup if you're more wary of the tartness of limes.) Some use more egg yolks, some use less. (I find I only need 3 for a good set and flavor, but you can go up to 5 if you'd like something extra-rich.) Not all insist that you whip your yolks until they're pale and ribbony, but it makes for a lovely final texture and I think is worth it.
Most importantly, despite the name, you don't need key limes to make this. I mean, if you can get them, please do. They're wonderful. But I made this, as I often do, with regular grocery store Persian limes and it's no less dreamy with them.
Crust 1 1/2 cups (155 grams) finely ground graham cracker crumbs (from about 10 crackers) 3 tablespoons (40 grams) granulated sugar 2 pinches sea salt 7 tablespoons (100 grams) unsalted butter, melted
Filling 1 1/2 tablespoons finely grated lime zest 3 large egg yolks (though extra-large would do you no harm here) 1 14-ounce (396-gram) can sweetened condensed milk 2/3 cup (155 ml) fresh lime juice (from about 1 dozen tiny key limes or 4 persian/regular limes)
To Finish 3/4 cup (175 ml) heavy whipping cream 1 to 2 tablespoons powdered or granulated sugar, to taste
Heat oven: To 350°F (176°C).
Make crust: Combine graham crumbs, sugar and salt in a medium bowl and stir until mixed. Add butter and stir until crumbs are evenly coated. Press crumbs into the bottom and up the sides of a standard 9-inch pie dish. I like to use the outer edge of a heavy measuring cup to press in neat, firm sides but nobody will be the wiser if you just use your fingertips. Bake crust until lightly browned, about 10 minutes. Set on cooling rack while you prepare filling. Leave oven on.
Make filling: Zest limes into the bottom of a medium bowl until you have 1 1/2 tablespoons. Beat zest and egg yolks with an electric mixer until pale and thick, about 5 minutes. Add sweetened condensed milk and beat until thickened again, about 3 minutes more. Squeeze zested limes until you have 2/3 cups juice. Whisk into yolk mixture until combined. Pour into graham crust and bake pie for another 10 minutes, until set but not browned on top at all. Let pie cool completely before adding topping — you can do this outside (thank you, January!) or even in your freezer (but don't forget about it) to hasten the process, and your pie reward, along.
Make topping: In a medium bowl, beat cream and sugar until soft peaks are formed. Spread over top of chilled pie. Ideally, pie should be chilled at least another 2 to 3 hours with the cream on top so that it can fully set before you take a slice, but whether that happens is between you and your pie.
Key lime pie keeps in fridge for a week, though certainly not around here.
Three Sisters Coconut Buttermilk Pie – from Pie by Ken Haedrich
3 large eggs at room temperature
2/3 cup sugar
3 tablespoons all-purpose flour
¼ cup canned cream of coconut, well-stirred
2 cups buttermilk
1 teaspoon vanilla extract
Pinch of salt
1 cup sweetened flaked coconut, toasted
¼ to ½ tsp ground nutmeg
Roll out the pastry of your choice and fit into your pie dish, decorating the crust however you so choose. Dock the crust all over with a fork or a knife. Place in the freezer for at least 15 minutes while you preheat the oven to 400. Line the frozen crust with tinfoil, then fill the pie dish with pie weights or dried beans and bake for
15 minutes. Remove the foil, turn the temp down to 375, and bake for an additional 10-12 minutes, poking any puffy places with a knife to deflate during baking. Remove from the oven and let cool on a rack completely before filling – reduce the oven temp to 350.
Whisk the eggs, sugar, and flour together in a large bowl. Whisk in the cream of coconut, buttermilk, vanilla, and salt, then stir in the toasted coconut and nutmeg and pour into the cooled crust.
Place the pie on the center rack of the oven and bake for 20 minutes, then rotate 180 degrees and continue to bake until the center of the custard is set, about 20 more minutes. It won't get very browned on top but the filling shouldn't move in waves when you nudge the pie dish. Let it cool completely on a wire rack before cutting and serving.
Triple Vanilla Bean-Scented All-Peach Pie – from Pie by Ken Haedrich
Double Pie Crust recipe of your choice
1 plump vanilla bean
1 cup sugar
6 tablespoons cornstarch
5 cups frozen peaches
2 teaspoons fresh lemon juice
2 tablespoons cold unsalted butter, cut into small pieces
1 cup cold heavy whipping cream
Roll out the bottom crust and fit it into your pie plate of choice, leaving the extra overhanging to finish with the top crust. Put into the fridge while you prepare the filling.
Slit the vanilla bean down the middle, then scrape the seeds into a food processor with the sugar and pulse a few times to combine. Mix ½ cup of the sugar with the cornstarch in another bowl and keep it nearby. Combine the peaches, sugar-cornstarch mixture, and lemon juice in a large bowl and mix well. Preheat the oven to 400 degrees.
Roll out the other half of the dough and decide how you want to decorate the top of your pie (we're doing lattice and braids tonight!), pour the filling into the chilled pie shell and then do the top up right kids! Brush the crust with milk and then sprinkle with some of the vanilla sugar you reserved.
Place the pie on the center rack in the oven and bake for 30 minutes, reduce the oven temp to 375, rotate the pie 180 degrees and bake for another 30 minutes until the juices bubble and the crust starts to brown. Remove from the oven and cool on a wire rack before serving.
Whip the cream until soft peaks form, then add in 3 tablespoons of the vanilla sugar and a splash of vanilla.
It's ok if this happens guys – I have made hundreds of pies and this happened to me just last weekend. After I got down swearing I filled it with chocolate pudding and topped it with whipped cream and no one could tell J