Posted on
By Bekah Stelling
For my family, our favorite breakfast growing up was Popovers! My mother and grandmother made them most weekends. One of my jobs when I was little was to butter the inside of the muffin tins so that the popovers would come out easy when they are hot and beautiful out of the oven.
This recipe is just like lots of great recipes...simple in the ingredients, but it is all about the important techniques! My family on half of my Mother's side is English (we even had a family pirate!)...and they swear that this recipe comes from that side...likely the version of Yorkshire Pudding made on this side of the pond...called the Popover.
The various bakers and cooks in my Mom's family have made slight edits over the years and we all swear that our trick is the best.  I will share these tricks, and what I have settled on for mine.  Please read through all of the directions before you start;)

POPOVERS:
Ingredients: 
2 eggs
1 cup of milk
Dash of salt...also known as a pinch!
Scant cup of flour...this means, slightly less than a level cup of flour.  (I know super exact right?!)
*Pre-heat the oven to 450 degrees.
-Beat the egg and milk and salt together well.  (My mother swears that slightly warm milk is one of her tricks to extra high popovers...I don't bother with this)
-add the flour and beat well with a flat whisk until the lumps are all gone.
*Growing up, we always just barely mixed it as that was in great-grandma's recipe...but we have since mixed it well and even thrown it in a blender for a minute and I like the results better.
- Butter each tin carefully either with a paper towel or melt butter and use a basting brush.
*My mother also swears by warming the pan up a bit before filling...I don't do this either...you can give it a try and see who is right! 
Using a muffin tin or even better a popover pan, fill each tin 2/3 full.  
*Now here is where we all agree on a tip...the pans.  These Nordic Ware pans are the best!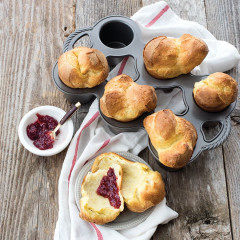 Popover pan from Bekah Kate's website
*Another tip we all agree on is the temperature change you need to do to your oven.  You bake them at 450 degrees for the first 15 minutes...resist the temptation to open your oven...it will affect your results.  The change in temperature in the oven may make your popovers fall.  Also, using the convection setting on your oven can also make them fall.
After 15 minutes or once they have risen, reduce your oven temp to 325 degrees and bake for another 20-30 minutes.  Still don't open the oven! It is important to let them get nice and golden brown so they are hard enough stay upright when you pull them out of the oven. If you haven't let them cook quite long enough, they will fall immediately when you pull them out...but rest assured...they still taste great! I like to make sure my breakfast audience is ready to witness the show when I pull them out of the oven...just in case they fall! 
Now eat and enjoy! 
We like to split them in half and let fresh butter melt all over the insides and then slather with my favorite homemade strawberry jam! I have many childhood memories of eating these with butter dripping down my hand...yum! 
You can also serve these as a type of roll with a savory dinner like a yorkshire pudding, but my family reserves them for breakfast! 
Please share with me your successes and your flops! Email me pics or share on Facebook! 
This recipe can take a couple of tries to perfect, so don't worry if you don't get it the first time!