Le Creuset isn't just a pretty face...in this class you will learn how you can create fabulous recipes in your Le Creuset cast iron, Non-stick cookware, and stoneware. You will find out why this cookware is not just beautiful, but it's also an excellent choice for cooking a variety of dishes.
Learning to Love Le Creuset Cooking Class
Bekah Stelling
June 26th, 2019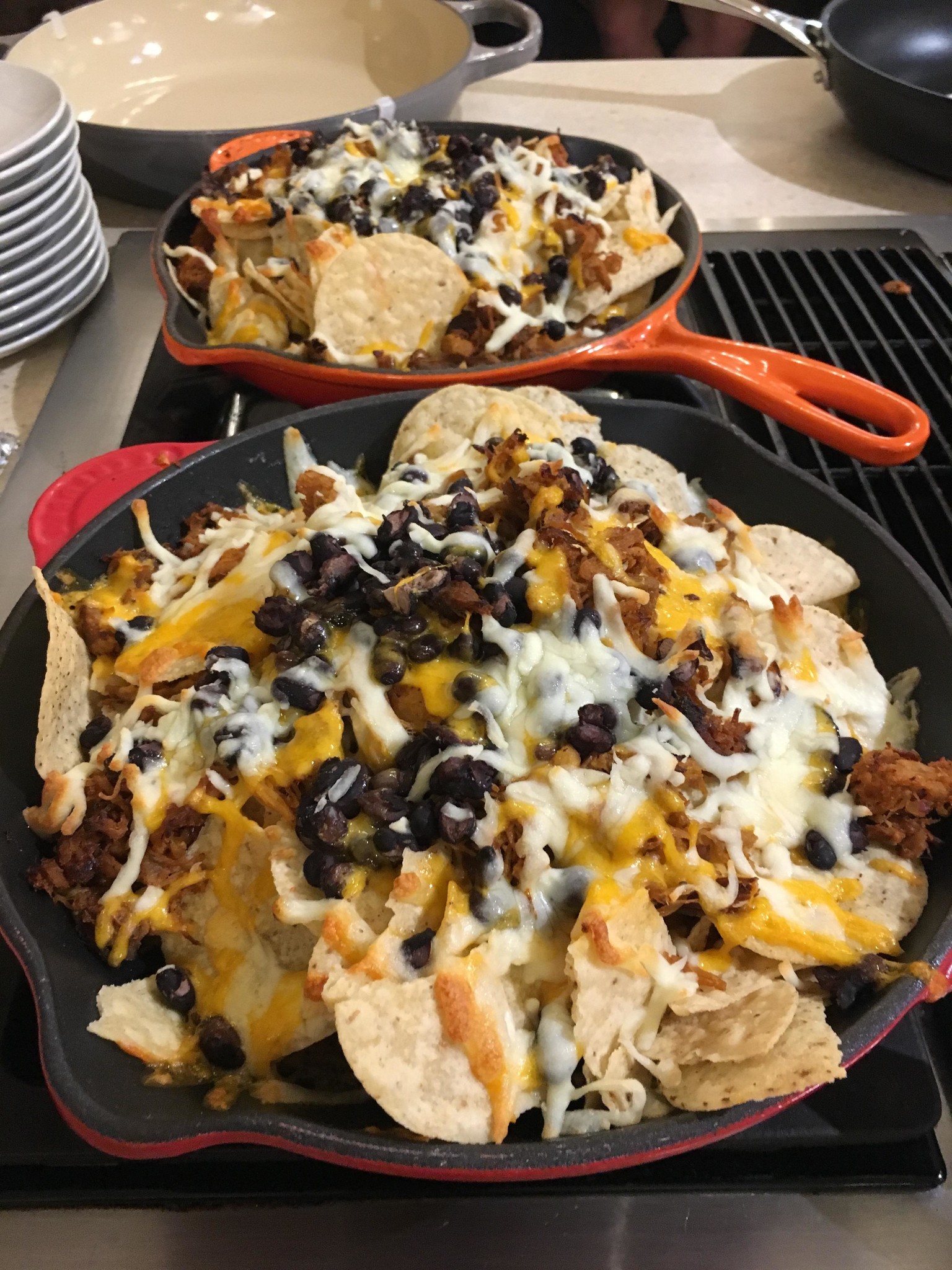 BBQ Pork Taco Skillet Nachos
 Prep Time 5 minutes
 Cook Time 20 minutes
 Total Time 25 minutes
Ingredients:
1 tablespoon olive oil

1 small red onion

2 cups shredded cooked pork mixed with ½ Cup BBQ Sauce

Salt & pepper

½ package Lambs & Thyme Taco Dip Mix

1 bag tortilla chips*

2 cups shredded cheddar/mozzarella blend
Garnish:
1 tablespoon cilantro chopped finely

Sour cream to taste
Instructions
Preheat oven to 350F.

Chop onion and cilantro and prepare cheeses (if you need to grate them).

Add the olive oil, onion, Pork, salt & pepper, and Taco Seasoning to the skillet on medium-high heat. Cook for five minutes, stirring occasionally, until it's all mixed together. Remove the chicken mixture from the pan and set aside.

Add a fairly even layer (some overlap is ok) of tortilla chips to the bottom of the pan. Add half the chicken mixture, followed by half the cheese. Add another layer of tortilla chips, the rest of the chicken mixture, and the rest of the cheese. Bake for 15 minutes.

Serve with cilantro sprinkled on top and a dollop of sour cream. Dive in immediately.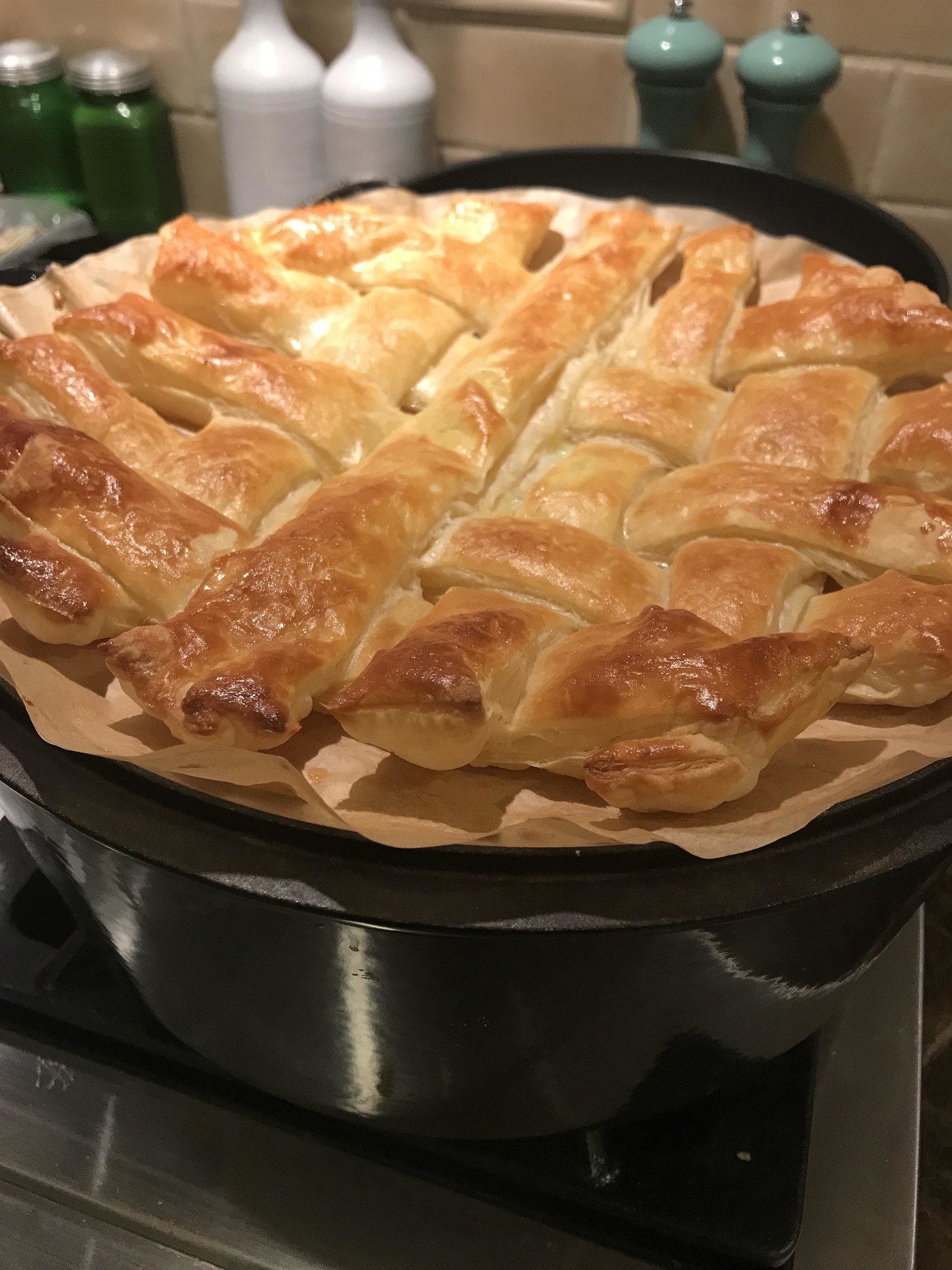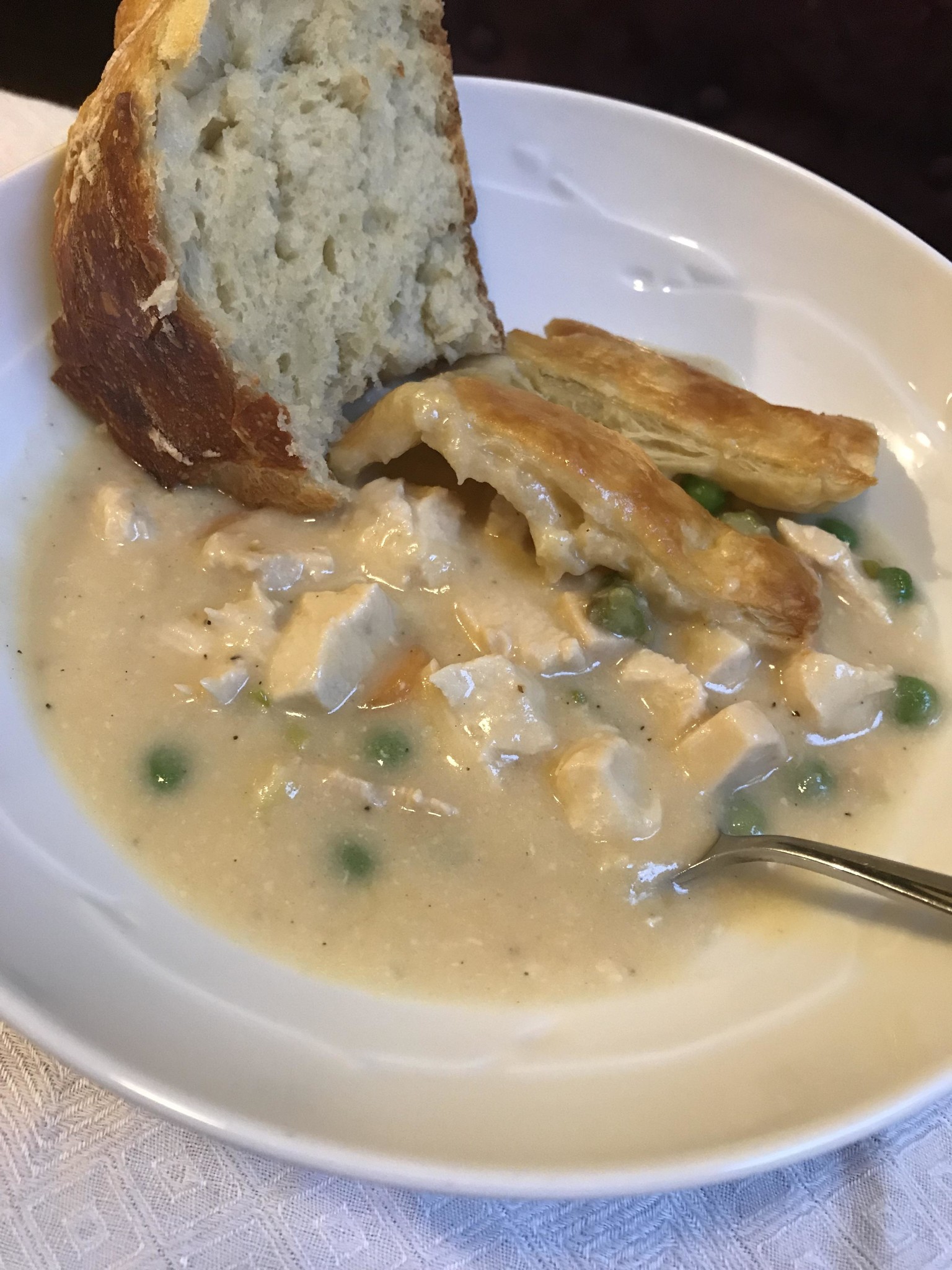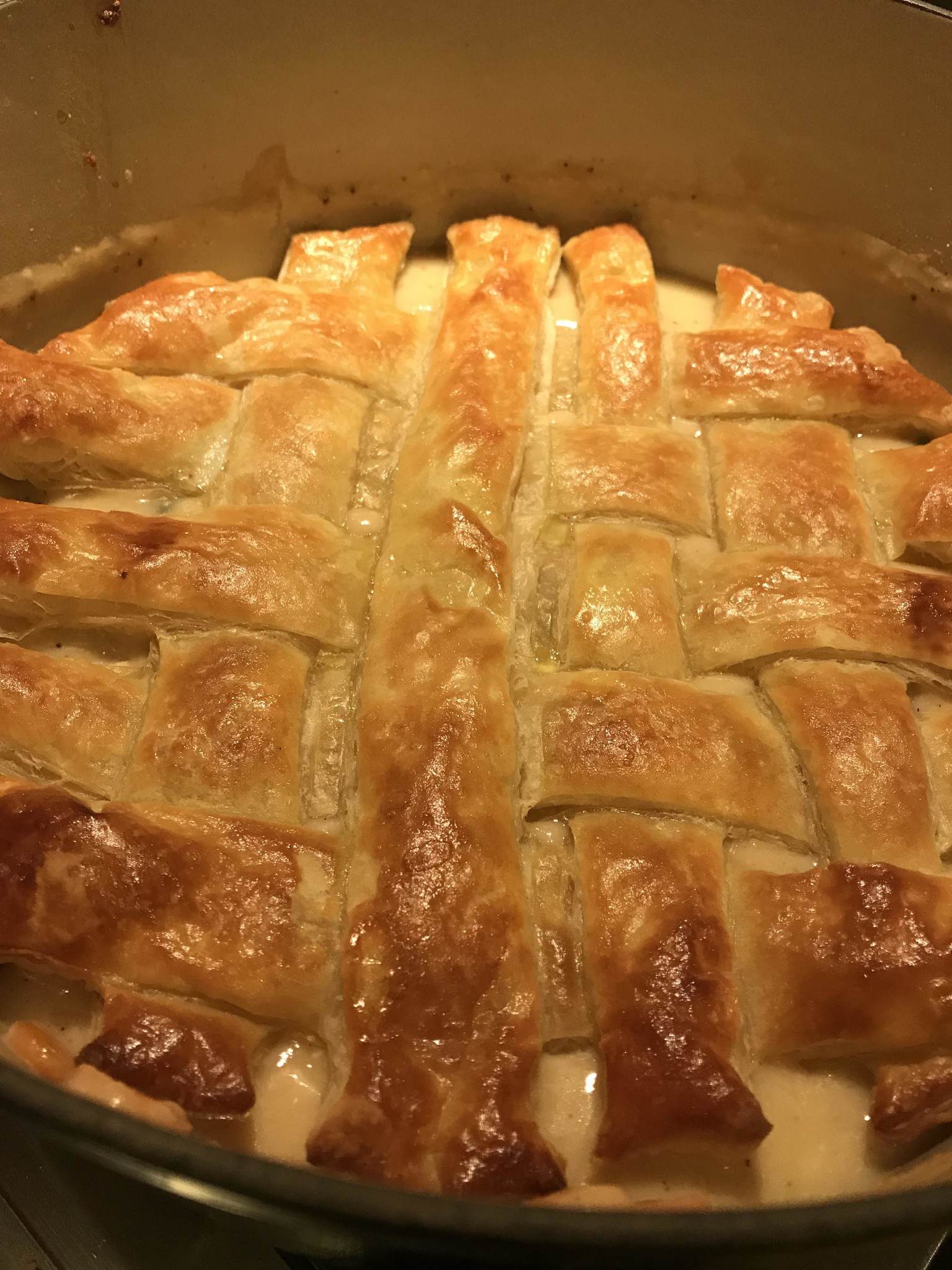 Chicken Pot Pie with Lattice Top
Serves 6 
Total time 1 hour 30 minutes
Ingredients
1 (91/2 by 9 inch) sheet puff pastry, thawed

4 tablespoons unsalted butter

1 Cup leeks or green onions, white and light green parts only, halved lengthwise, cut into 1/2 inch pieces, and washed thoroughly

1 Cup Carrots chopped

Salt and pepper

½ cup all-purpose flour

4 garlic cloves, minced

1 teaspoon tomato paste

3 cups chicken broth, plus extra as needed

¼ cup heavy cream

1 teaspoon soy sauce

2 bay leaves

2 large chicken breasts or 2 pounds boneless, skinless chicken thighs, trimmed and cut into 1 inch pieces

1 large egg, lightly beaten

1 Cup asparagus, trimmed and chopped

1 cup frozen peas

2 tablespoons chopped fresh tarragon or parsley

1 tablespoon grated lemon zest plus 2 teaspoons juice
Directions:
Cut sheet of parchment paper to match outline of Dutch oven lid and place on large plate or upturned rimmed baking sheet. Roll puff pastry sheet into approximately 15 by 11‑inch rectangle on lightly floured counter. Using pizza cutter or sharp knife, cut pastry into ten 1 1/2‑inch-wide strips.

Space 5 pastry strips parallel and evenly across -parchment circle. Fold back first, third, and fifth strips almost completely. Lay additional pastry strip perpendicular to second and fourth strips, keeping it snug to folded edges of pastry, then unfold strips. Repeat laying remaining 4 pastry strips evenly across parchment circle, alternating between folding back second and fourth strips and first, third, and fifth strips to create lattice pattern. Using pizza cutter, trim edges of pastry following outline of parchment circle. Cover loosely with plastic wrap and refrigerate while preparing filling.

Adjust oven rack to lower-middle position and heat oven to 400 degrees. Melt butter in Dutch oven over medium heat. Add leeks or green onions, carrots, asparagus and 1 teaspoon salt and cook until vegetables are softened, about 5 minutes. Stir in flour, garlic, and tomato paste and cook for 1 minute.

Slowly stir in broth, scraping up any browned bits and smoothing out any lumps. Stir in cream, soy sauce, and bay leaves. Bring to simmer and cook until mixture is thickened, about 3 minutes. Stir in chicken and return to simmer.

Take off heat, cover pot with inverted lid and carefully place parchment with pastry on lid. Brush pastry with egg and sprinkle with salt. Transfer pot to oven and bake until pastry is puffed and golden brown, 25 to 30 minutes, rotating pot halfway through baking.

Remove pot from oven. Transfer parchment with pastry to wire rack; discard parchment. If left on the parchment, it will not stay crisp. Remove lid and discard bay leaves.  Stir in peas and let sit until heated through, about 5 minutes. Adjust filling consistency with extra hot broth as needed. Stir in tarragon and lemon zest and juice. Season with salt and pepper to taste. Set pastry on top of filling and serve.
adapted from America's Test Kitchen recipe

How To Make No-Knead Bread
INGREDIENTS
1 pound all-purpose flour (about 3 cups) plus more for sprinkling

2 teaspoons salt

3/4 teaspoon active dry yeast

1 1/2 cups lukewarm water
INSTRUCTIONS
Make a wet, shaggy dough.

Place the flour, salt, and yeast in a large bowl and whisk to combine. Make a well in the center, and add the water into the well. Stir until it forms a shaggy dough.

Cover the dough bowl and let rise for 6 to 8 hours.

Cover the bowl with plastic wrap or a kitchen towel. Set aside in a warm place to rise until doubled in size and bubbly, 6 to 8 hours.

Shape the dough and rise for another hour.

Lightly flour a piece of parchment paper. Turn the dough out onto it, folding it over on itself at least once while you do so. Quickly shape the dough into a round ball. Cover with a kitchen towel and let rise for 1 hour more.

Preheat the oven and the Dutch oven.

About 30 minutes before the hour is up, arrange a rack in the middle of the oven. Place a large Dutch oven with its lid on the rack. Heat the oven to 450°F.

Transfer the loaf to the preheated Dutch oven.

The shaped dough will have risen and nearly doubled in size. Using the parchment paper as a sling, carefully transfer the loaf, still on the paper, to the Dutch oven. If desired, make a slash or shallow cut on the top of the dough with kitchen shears or a sharp knife so that the bread can expand while baking.

Cover and bake for 30 minutes.

Place the lid on the pot and put it in the oven. (Careful, the lid is hot!) Bake covered for about 30 minutes.

Uncover and bake for about 15 minutes more.

Remove the lid and bake for 15 minutes more. You can be extra-sure that the bread is done when an instant-read thermometer inserted in the top or side registers 210°F.

Cool and slice the bread.

Remove the Dutch oven from the oven and use the parchment paper to transfer the bread to a wire rack. Let cool at least 15 minutes before slicing the bread. 
RECIPE NOTES
Storage: Leftover bread can be stored cut-side down at room temperature for up to 3 days. It can also be tightly wrapped in plastic wrap and foil and frozen for up to 3 months.
Key Steps for No-Knead Bread
Make a wet shaggy dough.

This bread can be mixed entirely by hand — just don't expect a bouncy ball of bread dough. Instead this wet dough and the long rise combine to develop proteins and gluten without kneading. The dough will be sticky, rough, and bit shaggy, so don't fret!

Give it a long rise.

A long rise is required for no-knead bread with most recipes calling for an overnight rise. Our recipe has a little more yeast and can be ready in as few as six hours. Make sure the dough is covered and in a relatively warm, room-temperature area. 

Shape on parchment paper into a tight ball.

Shaping the dough into a round loaf on a piece of parchment paper makes it easier to load and unload the bread from the oven. You want to make sure you shape the loaf into a relatively tight round in order to get a high rise.

Bake in a Dutch oven.

You will need an oven-safe pot or Dutch oven to bake this bread. We prefer the Dutch oven because its weight holds heat well and keeps the steam created by the bread inside the pot for a crisper crust.
 Whole Wheat No-Knead Bread
INGREDIENTS
1 1/2 cups water
1/4 teaspoon active dry or instant yeast
2 cups all-purpose flour
1 cup whole-wheat flour
1 1/4 teaspoons salt
INSTRUCTIONS
Mix the water and yeast in a large bowl and allow to stand until the yeast is dissolved, about 5 minutes. Add the flour and salt. Stir to form a very wet, shaggy dough. Make sure all the flour has been incorporated; the dough should feel sticky to the touch.
Cover the bowl and set it somewhere warm and away from kitchen traffic for 12 to 18 hours. After rising, the dough can be refrigerated for up to 3 days if you don't have time to bake it right away.
Turn the dough out onto a lightly floured surface. Dust your hands with flour. Starting with the edge nearest you, lift up the dough and fold it over on itself. Next, pick up the edge furthest from you and fold it over the dough as well. Repeat with the edges to the left and right. The dough should hold together in a neat package. Sprinkle the top generously with flour and cover with a clean cotton dishtowel. Let the dough rise until doubled, about 2 hours (slightly longer if chilled from the fridge).
When you see that the dough has almost finish rising, place a 3 1/2-quart (or larger) Dutch oven or heavy pot with oven-safe lid in the oven and heat the oven to 475°F.
To bake the bread, very carefully remove the pot from the oven with oven mitts and remove the lid. Dust your hands with flour and scoop the dough from the counter. It's ok if it sticks; a bench scraper can help transfer the dough. Drop the dough seams down into the Dutch oven. Be careful to avoid touching the hot sides of the pot with your hands.
Cover the pot and return it to the oven. Bake for 30 minutes. Remove the lid and continue baking for another 15 to 30 minutes, until the loaf turns a deep golden brown. Don't be afraid to let it get really deep brown in spots. If you're unsure if it has finished baking, you can also check that the internal temperature is 200°F on an instant-read thermometer.
Remove the loaf from the Dutch oven with heat-proof spatulas and potholders. Transfer to a wire rack to finish cooling. Wait to slice until the loaf has cooled to room temperature.
RECIPE NOTES
Try other flours, such as rye and spelt, in place of up to half the all-purpose flour.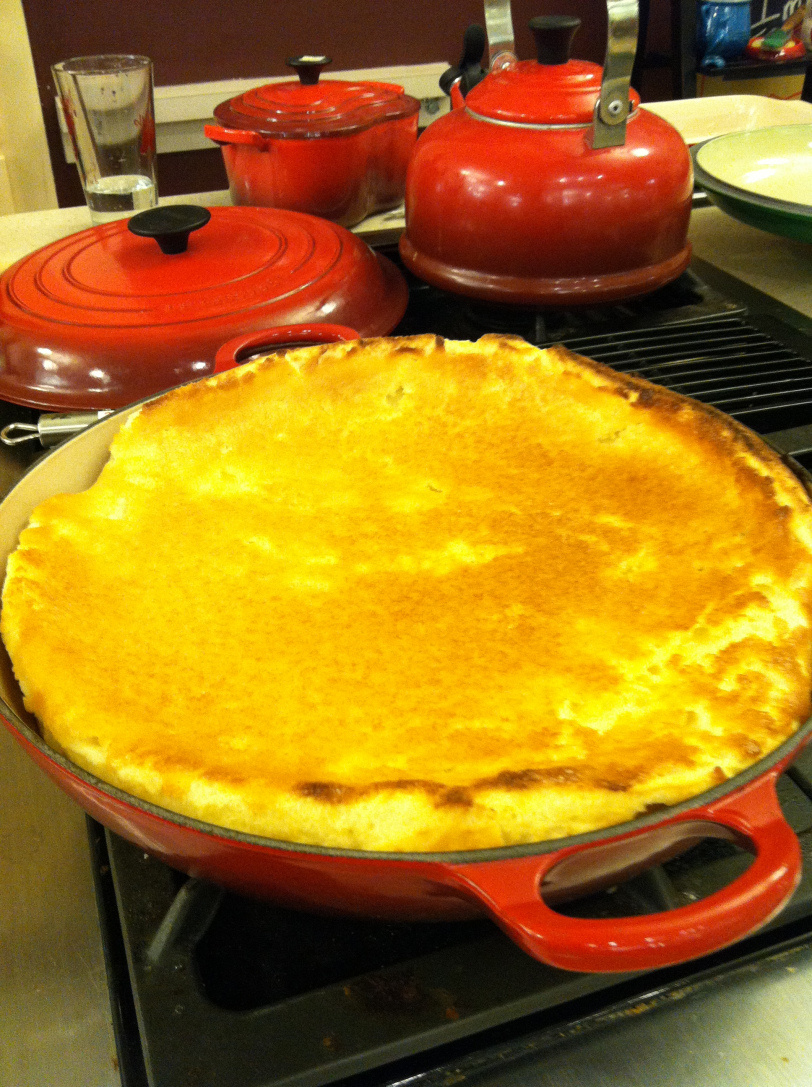 Dutch Baby Pancake
3T Butter

3 Lg Eggs

¾ Cup whole milk

½ Cup Flour

¼ t salt

½ t vanilla

¼ cup sugar

1T lemon juice (optional)
Melt 2T butter in Le Creuset Braiser Pan.  Set aside.

In blender combine: eggs, milk, flour, salt, vanilla, and sugar.  Blend until foamy, about 1 min. Pour batter into skillet, bake until pancake is puffed and lightly browned. About 10-12 minutes @ 425 degrees.

Quickly dot with butter, sprinkle 1T sugar and 1T lemon juice and serve immediately.

Slice into wedges.